Marshall Dean Wells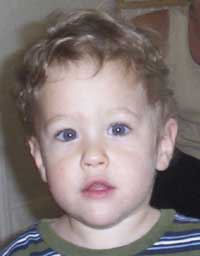 This is Marshall. He was the second one out of the womb, and weighed 1 lb, 12 ozs at birth. He is now biggest of the three.
Marshall is our most sensitive. He is clearly the most affectionate and the most fearful of strangers. He can get his feelings hurt, and the one most likely to be concerned when his brother or sister is crying.
Marshall has also amazed us at how he can sing songs at almost perfect pitch at times. Obviously, he can't really verbalize the words very well yet, but he is hitting the notes "dead on" more and more of the time. Very impressive.
Now, Marshall is also the biggest one of the bunch, and in having that advantage, sometimes uses it to take what he wants from the other two. However, since he is such a good boy, he is quickly learning not to take toys away from his brother and sister, often offering up toys to the other two voluntarily. He can often be caught giving his brother and sister hugs and kisses.
Marshall likes to ride too.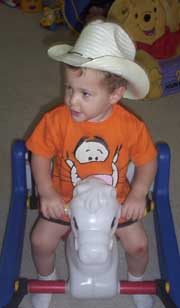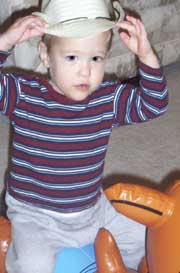 Click here to see Marshall at 10 months.